About Us
Eimco Elecon (India) Limited is in business of Manufacturing and Marketing Equipment for Underground and Opencast mines. It was incorporated in 1974 and went public in 1992. Situated at Vallabh Vidyanagar, Anand, Gujarat, Eimco Elecon is spread over a stretch of 15 acres.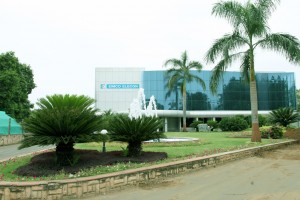 Eimco Elecon (India) Limited was first to introduce the intermediate technology of Side Dump Loaders (SDLs), Load Haul Dumpers (LHDs) and Rocker Shovel Loaders in India to partially mechanize the underground Coal and metalliferrous mines and continue to be market leader since then.
Elecon group of companies, continue to be market leader since its establishment in 1951, in manufacture of material handling Equipment & related projects in India and having diversified interests in Wagon tipplers, Reclaimers, Industrial Gear Boxes, Industrial Geared Motors, Industrial Electro Magnets, Wagon Loaders, Various Electronic Equipment, etc.
In order to maintain pace with demand for enhancement of productivity from mines, we also introduced Face & Roof Drills, Coal Haulers, different models of LHDs / SDLs, etc. for underground mines. We have also started manufacturing Construction Equipment to cater the requirement of Construction Segment.
We have produced more than 3800 Nos. of machines, which are working successfully at various mining and construction sites in India and Abroad.We provide Sales and After-sales-support through the net work of branch offices and parts depots across the country viz. Asansol, Bilaspur, Dhanbad, Kolkata, Nagpur, Secunderabad, Bangalore, Chennai, Jamshedpur, Mumbai and New Delhi.
Our Clients

Coal India Limited and Its Subsidiaries:

– Bharat Cooking Coal Ltd.
– Central Coalfields Ltd.
– Eastern Coalfields Ltd.
– Mahanadi Coalfields Ltd.
– South Eastern Coalfields Ltd.
– Western Coalfields Ltd.

Singareni Collieries Company Ltd.
Hindustan Zinc Ltd.
Hindustan Copper Ltd.
Uranium Corporation Of India Ltd.

Monnet Ispat & Energy Ltd.
Manganese Ore (India) Ltd.
Hutti Gold Mines Co. Ltd.
Mineral Exploration Corp. Ltd.
Ferro Alloys Corp. Ltd.
Aravali Construction Company (Pvt.) Ltd.

Teknomin Construction Ltd.

SMS Infrastructure Ltd.

VRC Hitech Mining
Technoblast Mining Pvt. Ltd.

Singh & Sons
Tata Iron & Steel Ltd.
Coastal Projects Pvt. Ltd.

And other our valued customers in India & abroad.